1. The ones that are happy eating all the food at home
"I cannot comman die"

2. The scholars that just want to be done with school & be great in life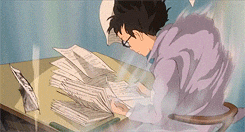 Strike or no strike, they are still reading... Efiwe

3. The ones that wake up early in the morning to stake
All they wanna do in life is just carry 5 odds and slam 5k on it.

4. The ones that see it is an opportunity to learn one trade or the other
Omore bi iyan. Well done.

5. The ones that are busy looking for pant upandan
So they can resume school in Benz

6. The ones that are in their boyfriends' house doing the "our wife" duties
7. The ones that are in the studio trying to revive their rap career
"I'm dropping this fire once we resume school". Fire kill you there!

8. The slay mamas that can't go anywhere because they are under their parents
No school, no runs

9. The ones that are trying every means to be lightskinned
So they can resume school & join the Slay mama clique

10. The final year students that are looking for where to buy yeast for their GP so it can rise before they graduate
"I fit still push am enter 3rd class lowkey. Las las no be by school Dangote take get hin money"

11. Finally, the ones that will shock everybody in school when they call off the strike. My bf and I were just playing o